THE CHALLENGES
Unlike from the previous year, there were a lot of events being postponed or cancelled due to the COVID-19 pandemic. Regardless of how hard and difficult the situation was, a.c.e Team is always ready to embrace the challenges and move forwards to the new generation of events.
ABOUT THIS EVENT
Together with Bursa Malaysia Berhad and CGS-CIMB Securities Sdn Bhd, we have launched our FIRST-ever virtual conference, the Shariah Investing Virtual Conference 2020 (SIVC 2020), themed "Shariah Investing and Socially Responsible Investing: Meeting at the Midway" on 17th June 2020. SIVC 2020 took place as a fully virtual conference, it has invited 14 speakers and successfully attracted over 1,300 participants from more than 8 countries.
In the pursuit of renewing Shariah scholars, experts, and leaders of the industry to share thought leadership on Shariah investing, Bursa Malaysia-i and CGS-CIMB wanted to engage a larger audience crowd and get a larger message outreach. Some key points remained obstructed to hit the goal:
Get a better understanding of delegates' needs in the preparation progress.
Finding an alternative to the expensive costs of hosting a fully virtual event
Inability to connect with global investors and members.
Bring together the delegates and audience in a fully virtual and socially distant environment.
Create an interactive platform for delegates and audience to share their insights.
THE SOLUTIONS
1. Using Engaging Video Conference Meeting to Have A Complete Idea of Client's Needs
The whole event discussion and decision between a.c.e Team with Bursa Malaysia-i and CGS-CIMB was conducted and communicated in zero face-to-face meeting by using Video Conference Meeting throughout the event preparation, as to follow the Standard Operating Procedure (SOP).
2. Event Customization With Visually Rich Experience
Prioritizing an excellent user-experience, The attendees of SIVC 2020 get to have the virtual experience from the moment they login to the platform. The journey starts from the lobby with welcome video, organizers and sponsor's branding, room indication signage, and a user-friendly features bar. On the features bar, they can teleport to any other room they want to go with a single click.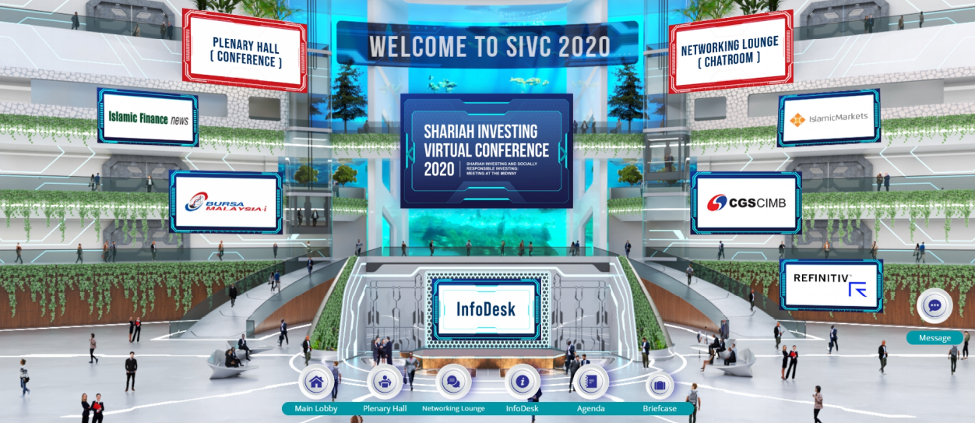 3. Instant Communication
The attendees would not get lost in the virtual event by using the communication tools. To accommodate the queries from attendees, they can communicate directly with organizers at the "Info Desk" to solve the doubts. Attendees can also refer to Frequently Ask Questions (FAQ) at the platform for instant answers.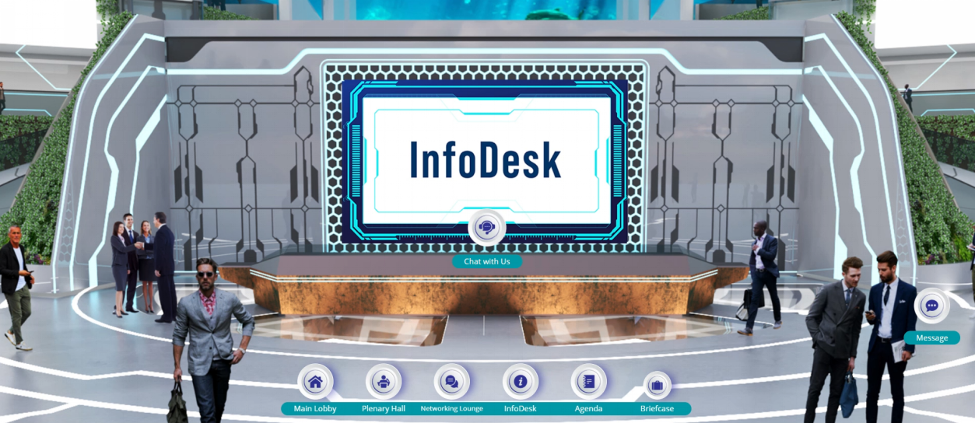 4. Live Virtual Conference and Presentations
The real-time virtual conference and presentations gave an informative and exclusive section for Bursa Malaysia-i and CGS-CIMB's leaders and market experts to allow content and knowledge sharing on Shariah Investing. The agenda and speaker's profile for each conference session can be viewed in just one click away at the platform's features bar, to ensure attendees are able to check the details easily.
The engagement of every session between attendees and presenters/speakers has maximized audience engagement by conducting Q&A sessions and attendees could catch up the replay sessions after the event regardless of the time-zone and no geographical distance.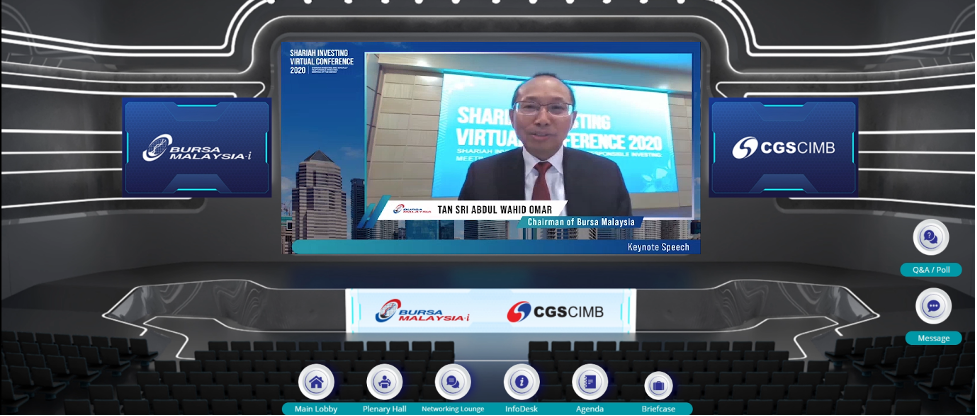 5. Networking Lounge
Networking lounge is definitely a place the delegates will love! It's a gathering point for the delegates to interact and further their communication by exchanging contact for future collaborations. The platform was set up with the Networking Lounge to engage the attendees in the interactive environment. The attendees were encouraged to exchange profiles, LinkedIn, and contacts. They could even connect individually to the delegates here to know more details about their talks.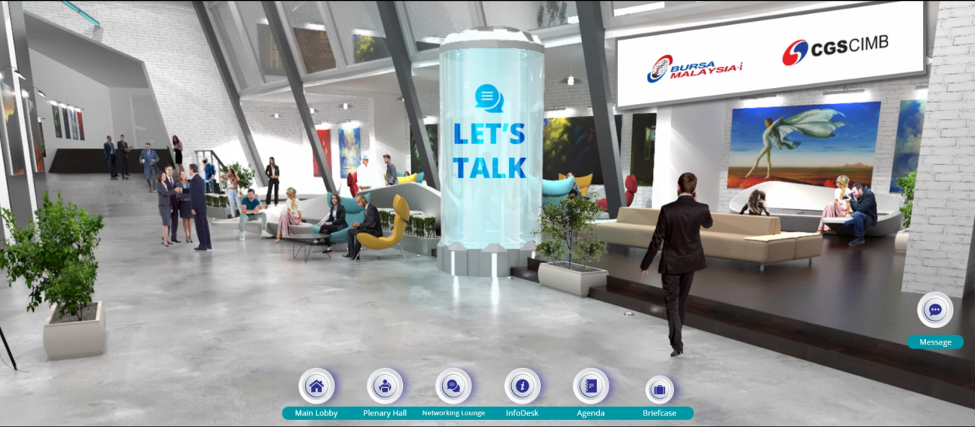 THE RESULTS
SIVC 2002 has launched a huge success, titled with the Malaysia First-ever Virtual Conference. It has set up a remarkable experience with a high level of attendees engagement by attracting over 1,300 participants comprising retail and institutional investors. Besides, the attendees would have taken many advantages to themselves with the Briefcase features to have more understanding about the conference's objective.
Ms. Khoo, Head of Corporate Access, stated, "a.c.e Team establishes a strong partner network to realize our vision while producing engaging experiences that are inspiring and forward-thinking."
ABOUT a.c.e
We are the magic makers!
A group of passionate event personnel with strong entertainment and production background, who input creative and technical proficiency in bringing events to life. As an event planner, the value of a great client experience is our Goal.
Talk to us and see how virtual event can work for you. Or email us at hello@creativemalaysia.com.